Henri Bendel
Henri Bendel New York
Lookbook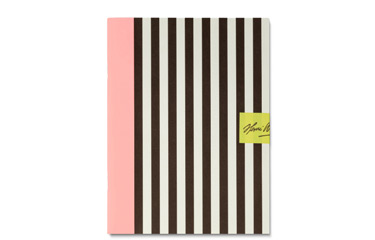 A Lookbook for Henri Bendel presents the 123-year-old brand's time-honored brown-and-white stripes, and polka dots on the cover. Inside, the product presentation abandons tradition, opting instead for a bold, modern scheme. Vellum pages add a touch of mystery while allowing products to be individually highlighted.
catalog design, creative direction, assortment curation & pagination
Henri Bendel's iconic Fifth Avenue windows featured the work of legendary French glass designer René Jules Lalique, whose interlocking vines and flowers set a new standard for showcase design. Bendel's was also home to Geraldine Stutz, an American retail groundbreaker, who helped launch the career of Andy Warhol. (She featured his shoe illustrations when she was Vice President of I. Miller Shoes.) Stutz became president of Henri Bendel in 1957. Over her 29-year tenure, she transformed the brand from a carriage trade retailer to a chic emporium of designer brands and introduced the shop-in-shop retail concept. Henri Bendel closed its doors for the last time in January 2019.